Do you know the tale of Joe Fortes? Well-loved swimming instructor and one of Vancouver's first Black settlers? English Bay's first lifeguard?
If not, that may be because much information about Vancouver's black communities has remained largely elusive from not only the City Archives, but from public memory as well. This February, the Vancouver Observer is celebrating Black History month by commemorating those key African figures who helped shape our vibrant city into what it is today.
Who was Joe Fortes?
Born in Barbados, Seraphim "Joe" Fortes came to Vancouver in 1885 as a shipman seeking new lands. Settling into a cottage on English Bay near Stanley Park, Fortes worked as a porter and bartender before turning his life back to the water and becoming the Bay's first lifeguard in 1901. It is from here that Fortes' reputation as a celebrated resident emanates, his accolades hailed by the children of English Bay whose lives he held dear while teaching them to swim. When the City of Vancouver chose to honour Fortes in 1910, it came as a surprise to few.
Upon his death in 1922, Seraphim Joe was remembered by hundreds of friends and Vancouver residents in a public ceremony hosted by the City, though for Fortes' devotees of slighter stature, this was not enough. The children to whom Fortes had dedicated much of his life banded together and raised enough money to immortalize Joe's memory in a fountain erected in the West End.
Still standing today, the monument bears the inscription "Little Children loved Him", and depicts Fortes' smiling face above a host of splashing boys and girls.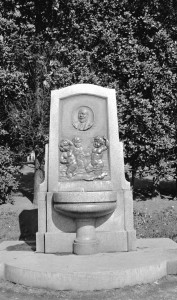 Joe Fortes memorial drinking
fountain. 1944.
The Vancouver Observer is proud to work in partnership with the City of Vancouver Archives. For more information on other noteable African American Vancouverites, check out the Vancouver Archives' AuthentiCity blog.