Not many new arrivals this week—Doctor Strange still has the floor—but notice that four of them are about the struggles or accomplishments of women. Another takes us into the flood of refugees in Europe.
Here's the list:
Arrival: 3 ½ stars
The Handmaiden: 3
Our Little Sister: 4
The Eagle Huntress: 3 ½
Fire at Sea: 4
Shut In: not available for review
ARRIVAL: Imagine that. And celebrate it. Here's a science fiction film about the importance of communication and other heady ideas and not space and machine battles. You get to consider questions like is it language or science that's the cornerstone of civilization. Does language shape your world view and even your brain? How can you really talk to someone when you don't know how they think? This film is refreshing in the intelligence it conveys. It's also, admittedly, a bit ponderous at times although a good amount of the usual sci fi fare helps overcome that.
Space ships have arrived and hover close to the ground in 12 spots around the globe. Amy Adams, as a language expert, and Jeremy Renner, as a theoretical physicist, are recruited by the U.S. military (Forest Whitaker) to go inside the one in Montana and find out they want. They find seven-legged creatures who communicate with gestures drawing smoky circles. What are they saying? Do they have the same concept of time that we do? Do they know the difference between a weapon and a tool? Do they even know what a question is? Amy's character ponders them all while other governments, principally China, are threatening to use bombs not language. She also has memory flashes of a dying daughter as the movie turns more and more into a puzzle. A surprise twist unlocks it.
Amy Adams is entirely believable in the role. Denis Villeneuve, who directed the film in his hometown of Montreal, let it get slack a few times and spooky when needed but mostly kept it thoughtful and engrossing. He's now working on Blade Runner 2. (Scotiabank, Marine Gateway and suburban theatres) 3 ½ out of 5
THE HANDMAIDEN: Victorian England shifts to 1930s Korea in Chan-wook Park's adaptation of Sarah Waters' novel Fingersmith and it works. Her bid to show that lesbianism existed beneath the very proper veneer of the time fits in perfectly with his fondness for stylish sex and weirdness. Think of his film Oldboy, a cult favorite. This one is slower and more subtle, almost as twisted but with a strong female empowerment subtext.
In a rapid-fire part one (of three) a complex story line is set up. A young woman (Kim Tae-ri) arrives at the mansion of a rich man (Cho Jin-woong) apparently to be a concubine. Not so. Actually, she's to be the handmaiden to his heiress niece (Kim Min-hee) who lives there. Not quite. She's a petty thief, goes by three names: Sookee, Tamako and Okju and is there as an agent for a criminal (Ha Jung-woo ) who's pretending to be a Count. She's to help him seduce and rob the heiress but instead falls in love, and into her bed, herself. The master of the house meanwhile collects pornographic literature and holds readings for his friends. Twists and hot scenes keep coming. The Count becomes an illustrator. The heiress a reader. She needs sexual coaching because she is being pressed to marry her uncle. There's a perverse fascination to be had watching all this. It's also a beautiful film. The 2 ½ hours just float by. (International Village) 3 out of 4
OUR LITTLE SISTER: This is an absolutely charming movie from Japan about the bonds between sisters. No arguments or feuds break out. No resentments are revived. Just everyday events from normal lives play out and they're engrossing to follow.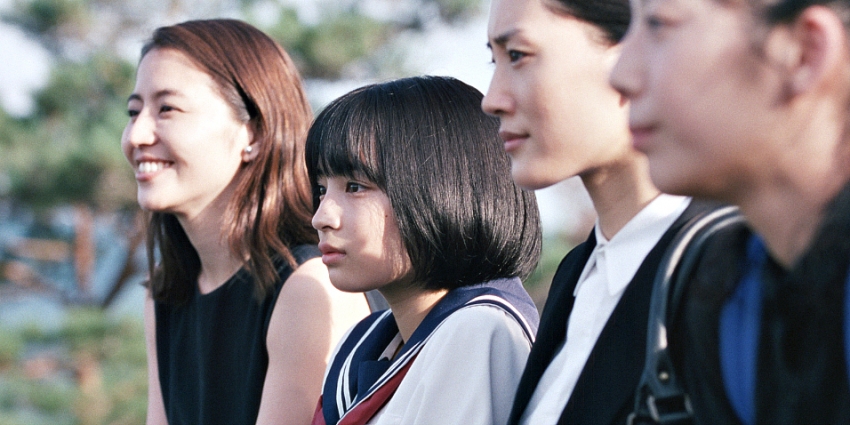 Well, their lives are sort of normal. Three sisters in their 20s live together in the house they were raised in. Dad, who they refer to as "kind but useless" abandoned them years earlier and in response mom took off too. When they hear that dad has died, they attend his funeral and are surprised to find they have a half sister they didn't know about. They invite her to come live with them and the film builds up a family tale out of incidents that do seem completely normal. Sachi, the oldest, is bossy, like a mother. Yoshi, in the middle, has boyfriend problems. Chika the youngest is still looking for one. Little Suzu, age 15, brings a ray of innocence and optimism as she bonds with her sisters, enters school and joins a soccer team. There's a brief period of tension when mom comes for a visit. The rest is serene and warmhearted and surprisingly involving for a film without conflict. (VanCity) 4 out of 5
THE EAGLE HUNTRESS: This one has echoes of two fine films from a few years ago. Whale Rider, about a young girl taking up a sport reserved for boys. And The Story of the Weeping Camel about nomadic people in Mongolia. If you liked them, you'll love this. You'll meet a 13-year-old girl named Aisholpan in the Mongolian backcountry who dares to take up the sport of eagle hunting. That's hunting with a pet eagle. The elders don't approve. "Women are weaker than men and fragile," they say. "They get cold."
We're treated to amazing scenes like a bird that flies from way back in the picture right to her hand. Or when her father helps her catch an eagle of her own. He lowers her by rope from a rocky crag to a nest where she grabs a young one while its mother flies about not far away. She then trains it and eventually enters a regional championship. We're with her through the whole competition in this sparkling documentary in which she earns the compliment that she's "as brave as any man." Some of the scenes are clearly re-staged. You can tell by the multiple camera angles. But I don't think that takes anything away from it. It puts extra impact into its stunning visuals. (International Village) 3 ½ out of 5
FIRE AT SEA: TV news reports give take us to this story now and then. This film takes us close. We get to see two sides of the migrant crisis in the Mediterranean and on the Italian island Lampedusa. Gianfranco Rosi's documentary finds its most compelling scenes out on the watr. Navy boats intercept rusty ships and take some extremely distressed people off them. If they're still alive they're probably de-hydrated, sick or soaked in diesel. They've paid to travel first or second class (on deck) or third class (down inside) and describe a harrowing trek they've made through several countries. And yet, as one says "It's risky in life, not to take a risk."
The other strain shows how the island residents are coping. Most pretty well, it seems. Boys play with slingshots. One gets his lazy eye tested and trained. Grandma makes pasta and recalls wartime when ships fired rockets, like "fire at sea". There's also a song by that title that a radio DJ plays. The local doctor though is unmistakeably under pressure. He has to treat a range of medical conditions and (something he hates) examine cadavers. And yet he says "It is the duty of every human being to help these people." That message comes in a beautifully photographed film. (Vancity Theatre) 4 out of 5
Also now playing …
SHUT IN: Remember Jacob Tremblay, the local kid who made such an impression about a year ago in the film Room? I wonder what's happened with his latest, Shut In? The distributor didn't preview it, not here anyway and that usually means little faith in the project. A review from Chicago is headlined Fine actors confined by predictable horror script. Naomi Watts and Oliver Platt are in it with Jacob, who I see was also in a TV movie this year. He played kid #4 in Donald Trump's The Art of the Deal: The Movie. Shut In is at International Village and three suburban theatres.