Chelsea Hotel makes a confident return to Firehall
Everybody knows that Cohen has always been old (even when he was young), which is what makes Chelsea Hotel—with its fresh-faced young cast—such an interesting theatrical production.
Everybody Knows
Everybody knows that Cohen has always been old (even when he was young), which is what makes Chelsea Hotel—with its fresh-faced young cast—such an interesting theatrical production. The pacing exuberantly vaults its way through Leonard Cohen's classics with the relaxed confidence and great chops of a seasoned cast, which I suppose they are by now. Donna Spencer, Artistic Producer for Chelsea Hotel, welcomed the cast back from its recent tour to distant Winnipeg, Saskatoon, and the Lower Mainland.
Chelsea Hotel
"It's written on the walls of this hotel, you go to heaven, once you've been to hell" – Leonard Cohen
Conceived and directed by Tracey Power, Chelsea Hotel is confident in two ways: it starts with one of the greatest poet/musicians living or dead this country has produced, and it doesn't bore us by reminding us how deep and significant Cohen is. Chelsea Hotel has the audacity to let Cohen's music speak for itself. There's no story line—although one emerged–you just sit back and let the dark and beautiful gravity wash over you.
Steve Charles' musically thoughtful and strangely cheerful arrangements carried the evening. Cohen's usually hollow settings were suddenly filled out with rich harmony, but never in a way that would degrade Cohen's original. Mr. Charles is also the dark horse musically of the lot, and his fine musicianship always caught my attention (one of his guitar solos alone was worth the price of admission).
The actors, also multi instrumentalists, were in fine form and songs clipped by as smartly as instruments appeared. As the show progressed and the cast earned its cred, Chelsea Hotel took amazing liberties with Cohen's music often subjecting it to lampooning and a certain campy sensibility. Yet, the depth came through—you can't take that away (not that they were trying).
Suzanne
Lauren Bowler led a performance of Suzanne that was somewhat hurried but nonetheless angelic. She also sang First We Take Manhattan, in an even-more-campy-than-the-original performance (a quality Chelsea Hotel never shied away from), but I liked her Suzanne the best. Cohen's music always relies on a female muse to propel it and, although Marlene Ginader played that role beautifully throughout much of the evening, Lauren Bowler's Suzanne really brought the groceries in for me.

Take This Waltz
I'd always wondered if someone would ever set Cohen's Take this Waltz as a true Viennese waltz, instead the Tennessee waltz that Cohen wrote. Well, Chelsea Hotel was not to be the ensemble that would, especially at this reckless pace. Rachel Aberle, who was meant to anchor this song, seemed out of her range and, in fact, somehow taken by surprise by the tempo and almost all the blocking. Her comic timing comes through, but her musicianship is a cut or two below the rest of the cast. This left her invariably slightly behind on her entrances, a problem that persisted throughout the evening.
Joan of Arc
Marlene Ginader is a rare and gifted actor, dancer, and not a bad violinist either. She nailed Joan of Arc as one of the highlights of the evening. It was so immediate I thought I was hearing breaking news. When Kayvon Kelly sang Chelsea Hotel, Marlene's dance was nothing short of sublime.
Hallelujah
Kayvon Kelly has an exceptionally fine voice and all the gravitas needed to stand in for Mr. Cohen, which is what seemed to be the unstated intent of his character. Kelly's role often witnesses the others is if they're but muses in his head. When his pipes are called for though, they deliver.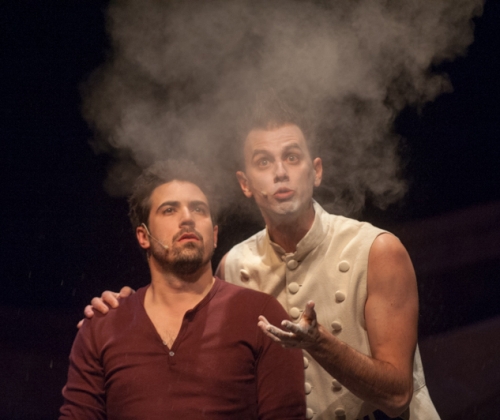 As the evening progressed, I realized that Cohen's biggest song of all, Hallelujah, would be on its way and with all the lampooning and playfulness, what in heaven's name would they do with it? But I'm not going to say anything about that—spoiler alert—you'll have to go hear it yourself. Okay, I will say this, "You won't believe it."
Chelsea Hotel runs until March 29 at the Firehall Arts Centre.
Photo credits, David Cooper